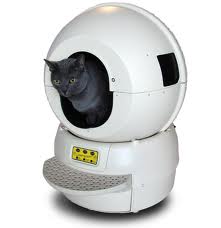 Litter-Robot
Review: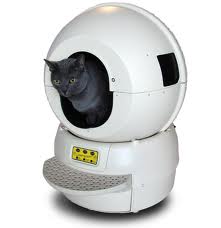 Midnight is our family cat. Actually I think she looks at us more like one of her play toys. She loves attention. Midnight is a very finicky cat when it comes to the litter box! She will not use it more than once and needs it cleaned after every time she uses it. She will sit by it and cry until it is cleaned for her to use again. My wife tried all sorts of litter and odor eliminators,  but nothing seemed to help with the litter box issue. Then we found "The Litter-Robot".
I was skeptical at first but I just had to see if it would solve the litter box issue. So when we had the chance to try the Litter-Robot we were hopeful that it was the answer we'd been looking for!
When it arrived it was a HUGE box and I thought to myself what did I get myself into and how much assembly does it need. I took the Litter-Robot out of the box and read the directions. In less than five minutes we were ready to go! Yes only FIVE MINUTES!! Even Midnight was interested and inspecting it right away. Within just a few minutes she was using her new litter box and had no interest in her old boring one!
So What is The Litter-Robot?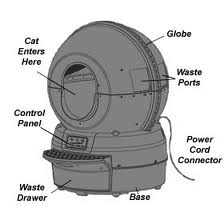 The Litter-Robot is an automatic litter box that frees me from the chore of "Litter Box Scooping"; the mess and smell was never a pleasant task. It has a patented sifting system that provides a clean and level litter every time. Check out this video:
My wife usually uses a clumping kitty litter and the litter waste clumps drop into large bottom drawer for easy bagged disposal. The waste drawer retains several days worth of bagged waste and that allows me to spend more time to do what I want to do and less time cleaning the litter box.
The Litter-Robot is cat activated which works great to reduce litter box odor. Even though Midnight is finicky, I don't have to worry about  taking a trip away from home. I know that Midnight will always have fresh litter. Cleaning the cat litter box is as simple as changing a kitchen garbage bag every few days. In fact, cleaning the cat litter box is a thing of the past.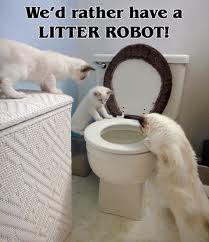 The Litter-Robot was introduced to the market for it's debut in April of 2000. It is made from tough recyclable plastics and industrial grade components. Although I have only had mine a short time, the Litter-Robot appears to be made well and durable; I believe that it is here to stay. You can get one of your own at their website:
Litter-Robot
.
I hope that this was helpful and I know you are going to enjoy yours as much as I enjoy mine.
mark
*Please note that Litter-Robot units supplied at no-charge for the purposes of objective reviews or promotional give-away are non-returnable/non-refundable, however, Automated Pet Care Products, Inc. will honor the 18 month full warranty with proof of date of original receipt or serial number.