The ALEX DIY Paper Swirls Swirl Station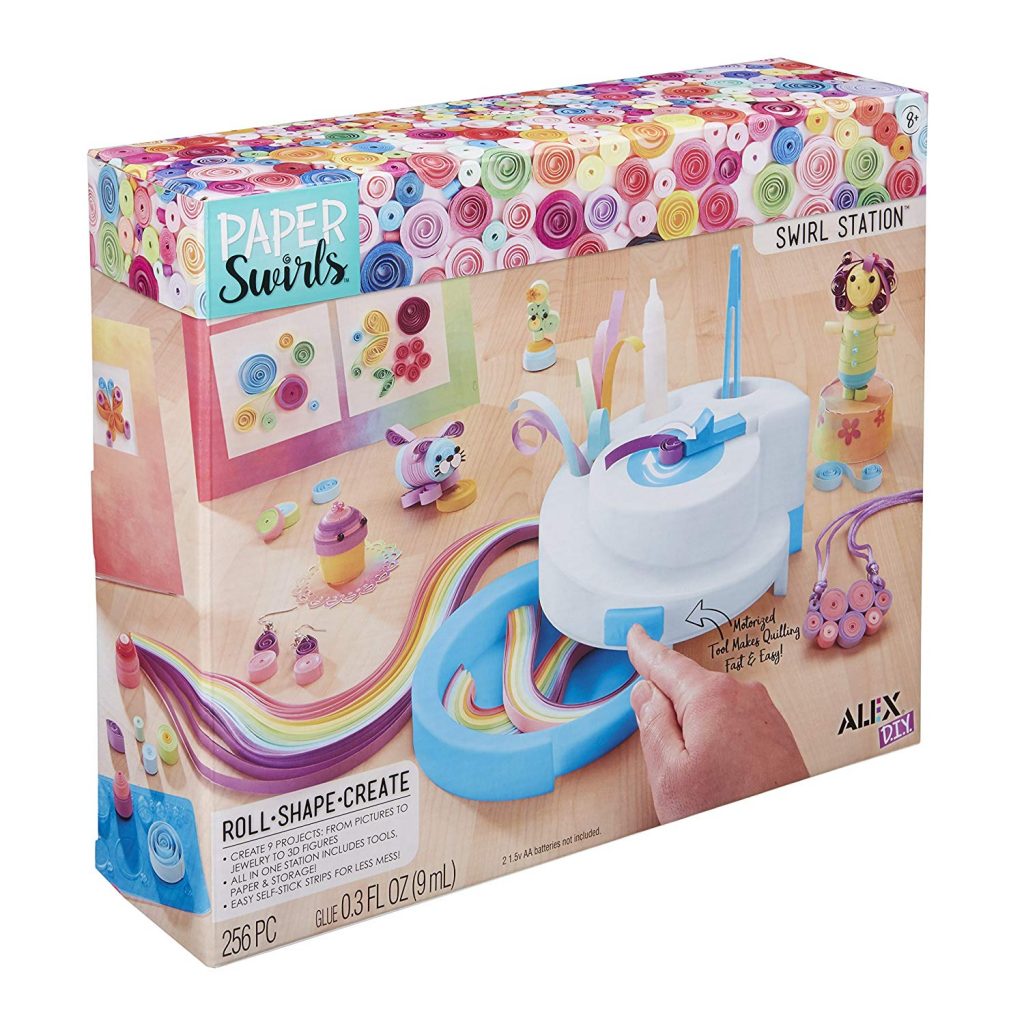 The ALEX DIY PAPER SWIRLS Station introduces young craft enthusiasts to the world of quilling; making art with rolled paper strips. Make art, cards, toys, jewelry and more with 200 colorful strips of paper. "The Swirl Station makes quilling easy by rolling the strips in seconds, with the push of a button." Watch as your child's imaginations come alive! With the ALEX DIY Paper Swirls Swirl Station, the possibilities of design are endless. "Curl paper strips into coils to create adorable paper characters, cards, jewelry and more. One touch operation allows you to swirl paper in the blink of an eye.
Available on Alex Brands get yours today.

Thames and Kosmos Pepper Mint Sea Voyage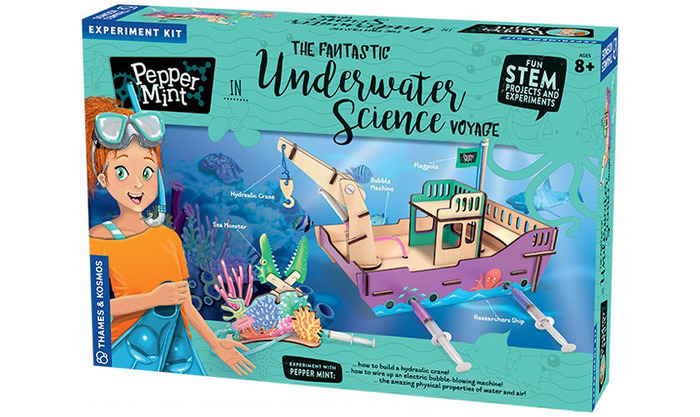 "In this story-based STEM kit, Pepper Mint accompanies an expedition to the Bermuda Triangle. Soon she discovers that the ocean water there behaves in strange and unexpected ways. When the onboard systems of the research vessel fail, Pepper Mint figures out how to use water to make simple hydraulic machines and conduct experiments with pressure and density." Not only is this a magical journey full of expeditions. But one that enhances mechanical physics, electric circuits, and physical science principles related to water and air. What a way to spend time together with your child while sneaking in some educational exercises. Available at THAMES & KOSMO

\
Get your children back outside this Holiday Season – Flybar Pogo Trick Board, Swurfer Kick, and Pogo stick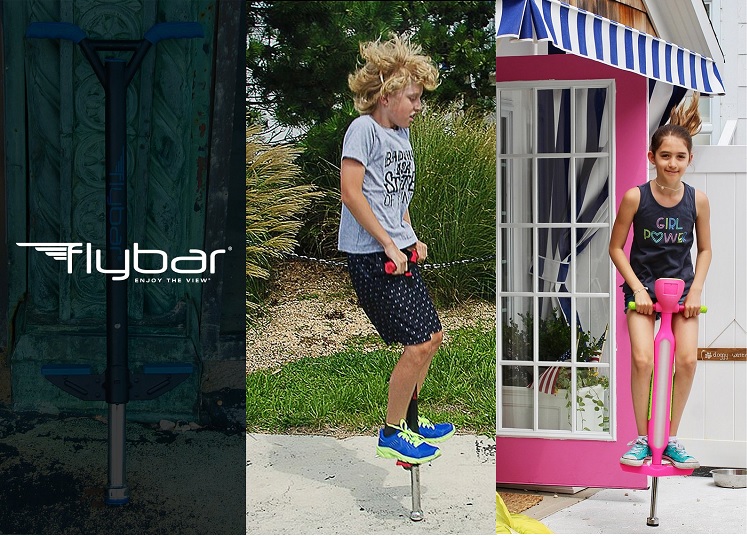 Bring the outside back into your kids' life this Holiday Season with Flybar! It's great interactive toys like this that interest me. A lot of kids are inside glued to the television. Flybar brings a modern touch to classic toys that never left. Kids can enjoy swinging from a tree branch with the Swurfer Kick. Which will have them surfing the air in no time. Maybe they want free roam with their new toy. The interactive iPogo Jr. would be the perfect gift to get them bouncing around. Looking for something that might help release some of that energy. Then the Pogo Trick Board is just perfect for them. Not only are all these toys fun to play with. Flybar is a great way to get the kids back outside burning off that energy and building social skills.  "Flybar has been around since 1918 and has since then been known as the Original Pogo Stick Company. We have been working tirelessly to bring you new and exciting products beyond just pogo sticks. To date, Flybar has since moved beyond just being the top pogo stick company, into an all-around sporting goods company. New research and development continue to bring you fun and exciting new products. Our team is continuing to grow and we can't wait to show you where Flybar is going." Flybar, Since 1918. Available at Flybar

Josie the Great & Max and Bear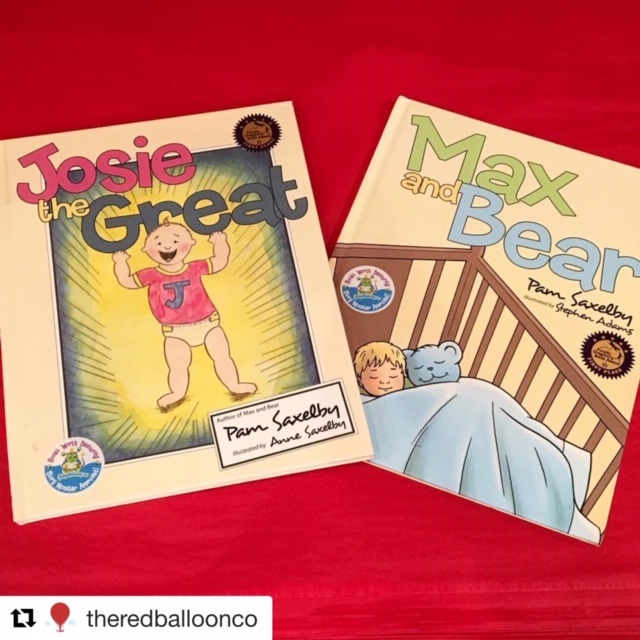 Parents need to have fun stories to enjoy too.  Reading Pam Saxelby's stories Max and Bear and Josie the Great, will provide humor and love for both parents and children as they enjoy a quiet moment together over a relatable story.
Available at Pam Saxelby

Bulls I Toy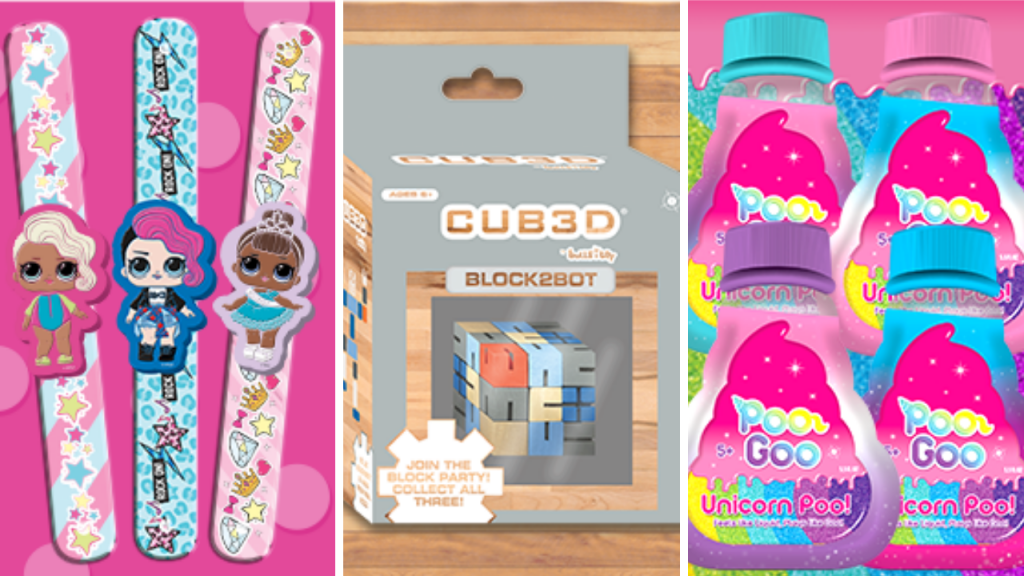 Are you on the hunt for all of the perfect filler gifts that will have your kids gasping with excitement this holiday? Bulls I Toy has lots of great, trendy toys and collectibles that will win the day. Slime lovers will be thrilled with Poo Goo Unicorn Poo and Goo Labs Putty for their ooey gooey fun. Jump on the L.O.L. Surprise trend with Slap Bands. Give them something to think about with a Brainstem CUB3D Block2Bot. Let the squishy collectors in the crew add to their haul with Squee-Zoo-Balls or Squish 'Ums Skull Series or Yummy Series 2. Every gift under the tree will be sure to bring a smile to their faces!
Available at Bulls I Toy

OOLY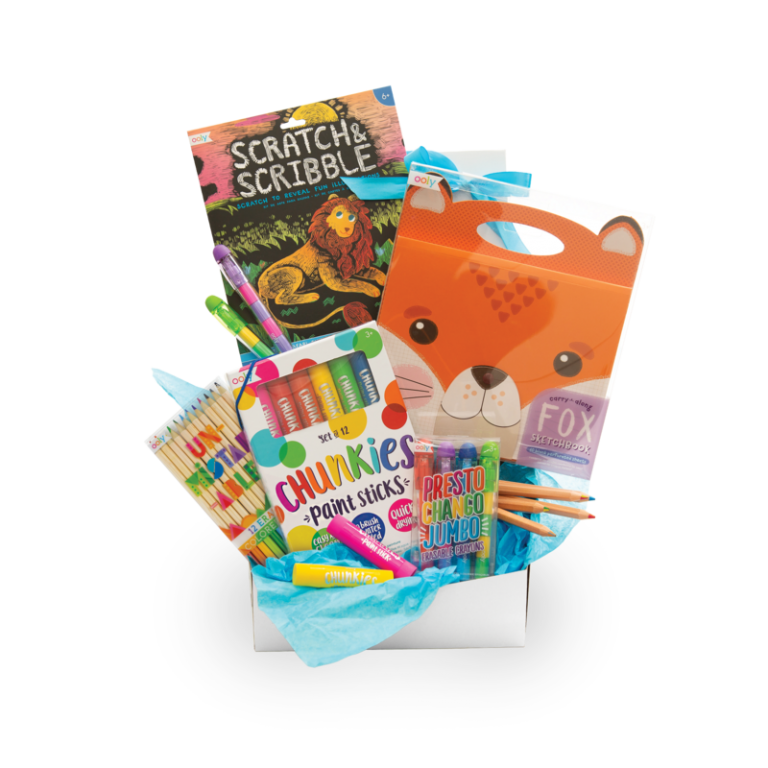 Create your happy this holiday season with wonderful, creative art and craft supplies from OOLY! No matter what medium your little artist enjoys, there is sure to be plenty that will satisfy them for the holidays. Everyone will love their Scratch and Scribble books, as well as their Creatibles Window Art Kit. Let the kids carry along their artistic fun with a Dog, Cat, or Fox Sketchpad that has a fun handle. Sketch and Color Colored Pencils, Switcheroo Color Markers, and Big Bright Brush Markers. Even the littlest hands can get in on the creativity with Brilliant Bee Crayons and Chunkies Paint Sticks! Let them show off their imagination and skill by creating their happy!
Available at OOLY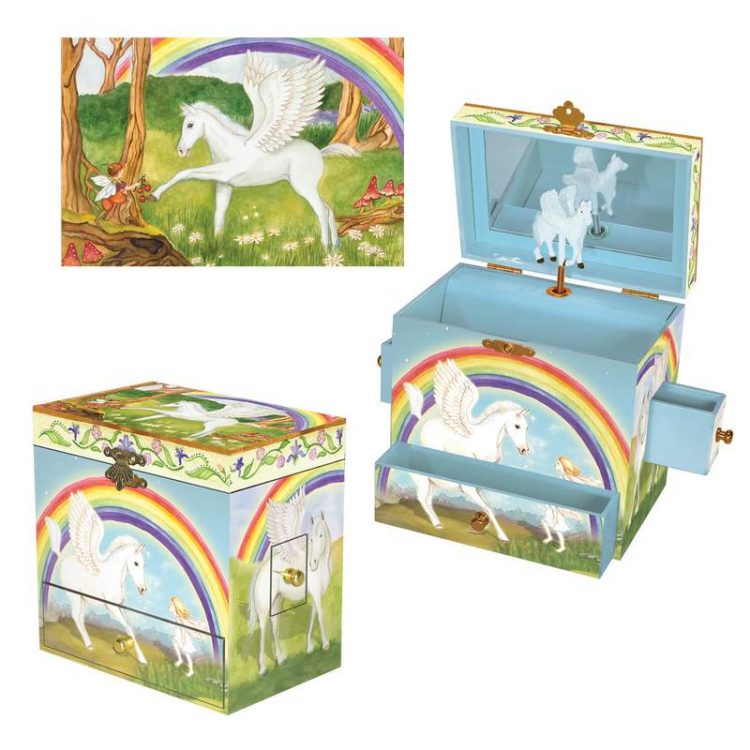 Give your child the gift of imagination with this Pegasus Music Box. The outside is beautifully designed with watercolor art and the inside opens up to show a pegasus spinning to the music. This gift will be a delight for your child and they'll proudly display it to all their friends and family. Purchase this item directly through the company website HERE.

Santa's Dog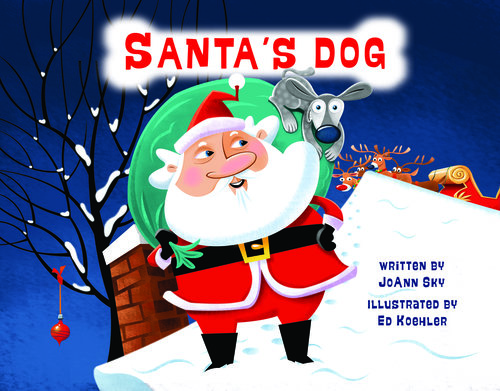 In this sweet rhyming book written by JoAnn Sky and illustrated by Ed Koehler, kids can follow the adventures of Santa's dog, Lance. He falls out of Santa's sleigh and finds himself in an animal shelter. From there, a military family whose father is off serving the country gives him a home. Will he stay with his new family or return with Santa the next Christmas? Read to find out! This story is loosely based on the rescue of a 3 year old mixed breed named Sampson, who was adopted by the author as a companion while her husband was deployed to Iraq. This sweet Christmas tale will truly warm your heart.
Available at DogsAndBooks

Who Cut the Cheese? Game
It's no surprise to see a game about farting on the shelves these days. With a plethora of games and toys about slime and poop and farts and boogers, this game fits right in. Kids love gross and this game is GROSS, complete with realistic sound effects! The goal of the game is to  cut the cheese without farting. If you're successful, you get to advance. If you cut the cheese then you must go back and try again. Have some silly gross fun with your this holiday season with Who Cut the Cheese?
Available on Amazon

We Were Made for Each Other – Storybook and Audio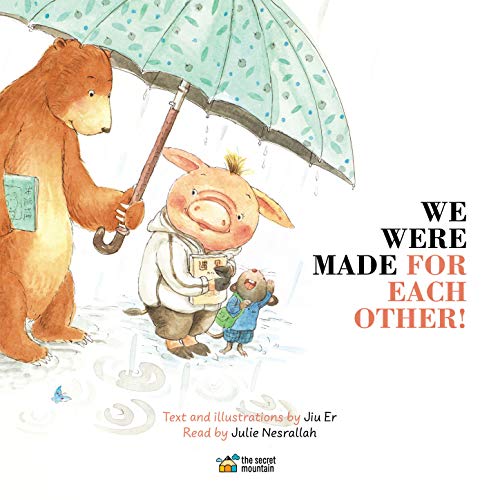 This heartwarming story of two friends, a pig and a mouse, will be sure to spark your child's imagination. Join them as they discover the ups and downs of life and help their friends along the way. Read by Julie Nesrrallah and featuring  soothing background music, this is the perfect read-aloud bedtime story. After the fun and festivities of the holiday season, help your little one wind down peacefully with We Were Made for Each Other.
Available on Amazon

Stuffed Safari Animals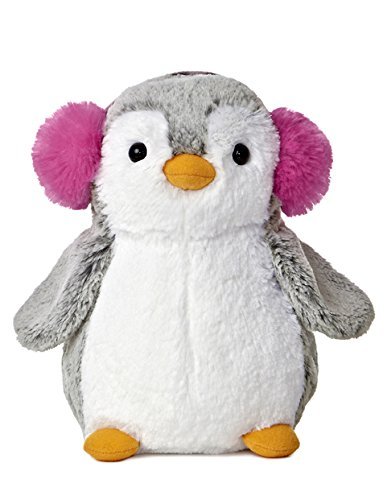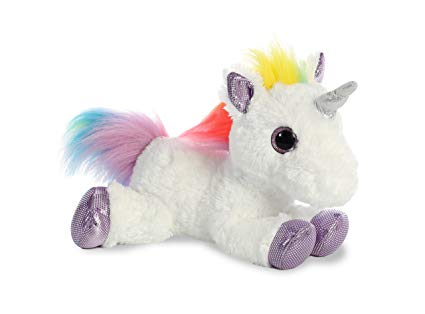 Unicorn, reindeer and penguins, oh my! Do your kids love stuffed animals as much as mine do? Introduce them to the magical world of Stuffed Safari. The choices are endless. Want an enormous tiger or a tiny hedgehog finger puppet? They also offer licensed plush, including Sesame Street, Pusheen the Cat, Precious Moments, Dr. Seuss, Disney, Curious George, and many more. With dozens of varieties of animals, bugs, and even puppets to choose from, you're sure to find a new friend or two for your little monkey to love this holiday season.
Available on Stuffed Safari

Giggles and Joy Gift Set
Are you looking for spiritual children's books that don't focus on any specific religion or beliefs? If so, these books are the perfect addition to your kid's library. They are spiritual in the sense that they "focus on nurturing a child's spirit with love, optimism, humor, honesty and common sense." Ideal for ages 2 – 10, these books feature bright, colorful illustrations to go with each lesson. Pick up a set for your little book lover today.
Available on Amazon

Aquabeads Deluxe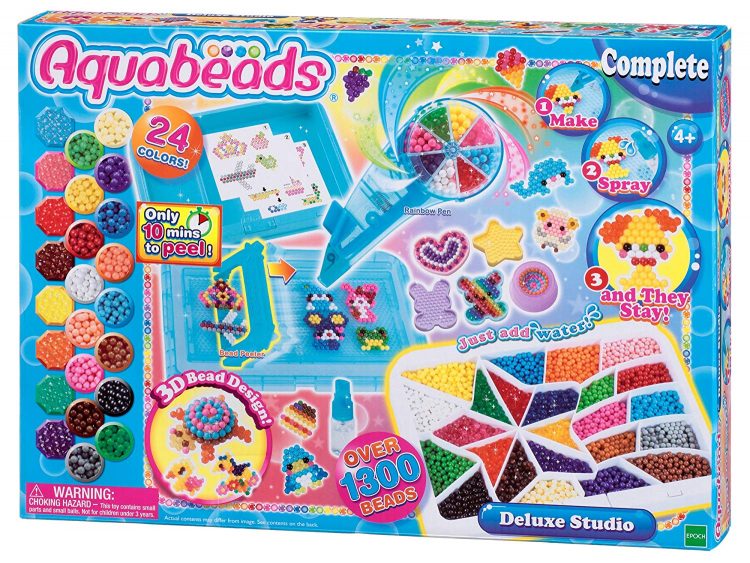 Give your child the gift of creativity this holiday season with Aquabeads Deluxe. Arrange the beads into different shapes and designs, spray with water and you're done! No heat required. The tool case comes with 5 easy templates – a bear, a star, a rabbit, a heart and a bowl, but with over 1300 beads in 24 different colors, the only limit is your child's imagination!
Available on Amazon

Geomag Mechanics Gravity Jump Run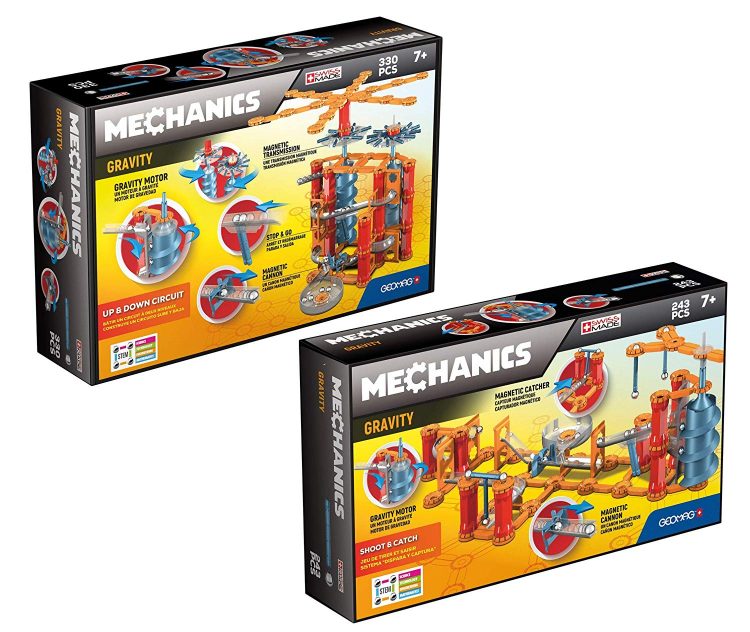 Unleash the power of STEM for your children this holiday season! Consisting of hundreds of plastic mechanical elements and magnetic rods, your child will love building this mechanical gravity jump run. It also features a gravity motor, magnetic transmission and a magnetic cannon guaranteed to provide house of fun. They won't even know they're learning!
Available on Amazon

Piki Piki Bike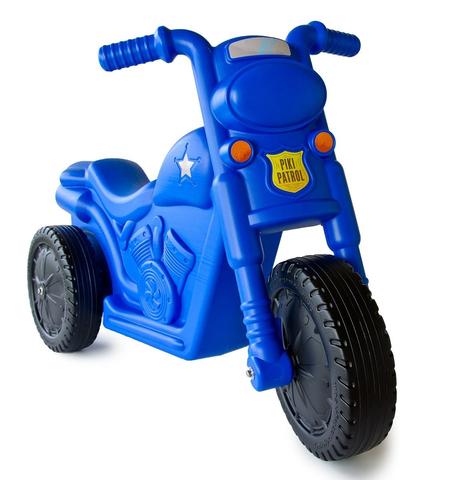 Every kid dreams of the day they get their first bicycle. Make that day come earlier for your child with the Piki PIki bike. This bike is designed specifically for toddlers, ages 18 months and up. It's made of lightweight, durable plastic and stands on it's own. No balancing required! It also doesn't require any batteries or assembly. Simply take it out of the box and it's ready for your child to ride! The Piki Piki bike makes a great holiday gift for toddlers who are brand new to bicycles. Give them the confidence to prepare for a bigger bike when they're older.
Available on Gallo Spence Toys