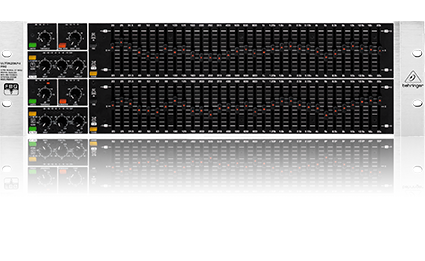 This model, along with Behringer's other two FBQ models, have a bit of controversy among users. Some say it's the best thing since peanut butter while others claim to have been misled. I will attempt to address these issues as well as give my own personal opinion on this product.
Features
31-band stereo graphic equalizer
FBQ Feedback Detection System instantly reveals problem frequencies and can be used as an audio analyzer
Dedicated limiters with gain reduction meters for system protection
Pink noise generator for setting levels
Mono subwoofer output
Sweepable high- and low-cut filters on each channel
Highly accurate 8-digit LED I/O metering
Ultralow noise op amps
Servo balanced I/O with 1/4″ and gold-plated XLR connectors
ALPS 45mm faders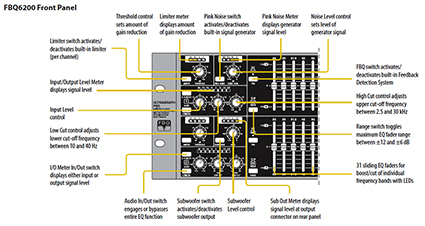 It's really hard to read the captions hear and captions alone don't explain what it does so I am going to do that for you.
The Front Panel:
There is a Limiter switch that turns on and off the Limiter. It has two features. One is a display that shows you how much gain is being reduced, and two, the Threshold control adjusts the threshold value of the Limiter from minus six (6) to plus twenty-two (22) decibels.
There is a Pink Noise generator which consists of an on/off switch, a display to see how much Pink Noise is being generated, and control to adjust how much Pink Noise you want to generate.
There is an FBQ switch, which is the feedback detection system. This switch will turn it on and off.
There is an I/0, input/output switch and meter. Depending on how the switch is oriented, the meter monitors either the input signal or the output signal. This can be very useful. As you may know, an overdriven signal gets distorted. This may be ok if you are playing your guitar through it, but for vocals, this can be disastrous. Monitoring each can keep your signals from clipping.
Then we have the Audio in/out switch. This allows you to play through the equalizer or bypass it. This way you can tell what the equalizer is actually doing to the sound.
Next is the Input control. This is used to adjust the input signal level. You can add or subtract up to fifteen (15) decibels
Then we have the low cut and high cut controls. With these two (2) controls you won't need a crossover for your system. You can adjust what frequencies that you want to eliminate and keep by adjusting these two (2) controls.
There is a range switch. The range can be adjusted so that from top to bottom of the sliders it can be either six (6) or twelve (12) decibels.
There is also a Subwoofer section. This has an on/off switch, a monitor that tells you the signal level present at the Sub Out connector, and a control to adjust the amount present at the connector.
With the technical stuff out of the way, there is the Slider Section. There is the thirty-one (31) sliders to adjust the levels of each frequency range. If the feedback detection system is off, the faders each have a light on them to easily see them in the dark. And if the feedback detection system is on, the intensity of the light will show the amount of feedback present in that frequency range. This is how you will know which frequency is giving you the feedback.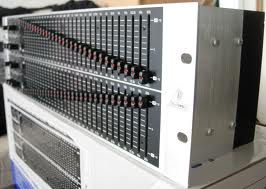 The Controversy:
The last item is the controversial one. The Feedback Detection System doesn't correct the problem. It only shows YOU where the problem lies. It's up to the soundman to push the slider down to eliminate the feedback .I'm sure it would be a much more expensive equalizer if it were to push the slider down for you. Nowhere does it say that it eliminates the feedback for you, it states "The FBQ Feedback Detection System lets you immediately recognize and eliminate feedback frequency" Perhaps they could word it a little more plainly, but it does say "you". I'm not speaking for or against it, I'm just telling you that usually this is where the decision making process is "for" or "against" this product.

Once again, let's go over this.
The Rear Panel:
There is a plug for the power cord and it also has a fuse to protect the unit from damage. There is also an on/off switch above the cord.
The input and output connectors for each channel have one each of the following:
A Balanced ¼" TRS Connector
A Balanced XLR Connector
Then there is the Sub Out Connection. It is a Balanced XLR Connector and a X-Over Frequency control knob that is used to select the desired crossover frequency for the subwoofer.

The Review:
So far I have basically told you the facts. Now we will take a good look at what it does and doesn't do, along with how it is made.
Quality:
I found all of the features to work as expected. The sliders (faders) moved very smooth and without any scratchy sounds associated with some switches. It's built solid and made well. Nothing was loose or rattling from inside. I always treat my things well. I can't say I'm "super careful", but I don't throw my stuff around. And I expect it will last a long, long time. I also don't have a rack to mount mine in. If you have a rack to mount it in, then you're treating it better than I am. Yours should last even longer.
Sound:
If you can work a graphic equalizer, then it will be whatever you make it. I don't have any formal training, but I found it easy to let my ear be the judge. The equalizer comes with a chart that tells you which frequencies are for what sounds (i.e. vocals, cymbals, etc.) so I used that as a guide and sort of took it from there. Depending on how you set it, you can sound better or worse. It does have the Audio switch so you can always compare it to the original sound.
Conclusion:
If you are looking for an equalizer that will eliminate your feedback automatically, then don't buy this one. However, if you are looking for a dependable and affordable equalizer that will critique your sound and help you find the trouble spots so you can fix them, then this is all that AND a bag a chips. Don't forget that this model also generates Pink Noise so you can set the EQ before the show. Though nothing is perfect, it still does a good job. It eliminates the need for a crossover and that's going to save you some money too. I think it is a great product for the price. Don't tell Behringer, but after owning one, I would have paid more and still been happy. I am quite pleased with mine.