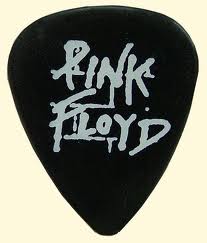 All guitarists that have very much time in on a guitar (say 2-3 years) have found out what they like and what they don't. It's not hard for them because they have pretty much tried it all.
Now for those guitarists that are beginning and intermediate, they are still on the scale teetering as to which they like. For those, and for those who aren't decided on what they want, let's explore the world of picks and get to picking.
History
Guitar picks (also known as guitar plectrums) have existed in the plastic form since 1922, when the company D'Andrea Picks started producing them out of celluloid. Up until then guitarists had made picks out of various materials such as leather and other materials. Each guitarist made his own. The company D'Andrea Picks also started the trend of custom picks, since they were the first to start printing the company's name on the picks. They also defined the pick shapes by numbers that are still used today.
Material
There are lots of materials that picks have been made out of. Below is a list of most of them. Each type of material has its own sound because of the softness or hardness of the material. It's not really rocket science. Soft materials such as Celluloid and Nylon have a mellower sound where as hard materials such as stone and metal have brighter sounds.
Felt
Leather
Celluloid
Nylon
Tortex / Delrex
Acetal
Ultem
Lexan
Metal
Stone
Wood
Thickness
The thickness of the pick also plays a big part in how it sounds. Now only that, but even what you are able to play.
Thin picks are made for strumming. Usually a favorite for beginners for two reasons. One, beginners are usually only strumming, and two, because a thin pick is more forgiving.
A thin pick only has about one volume where a thicker pick can hit the strings lightly or heavy for varying volumes. This is a big plus for those who use a lot of dynamics in their music.
Medium picks are for those who strum and play lead. Sort of for the middle of the road kind of guys or gals.
Thick picks are used mostly by lead guitarists and jazz guitarists mainly because of their dynamics and preciseness.
Then there are all of the millimeter picks. They go from very thin to very thick and everywhere in between. So if you find that a 1mm pick is too light and a 2mm pick is too heavy, you might want to try a 1.5mm or a 1.25mm.
Shape
A trip to any music store will show you that there are lots of shapes to choose from. There are mandolin picks, finger picks, and thumb picks. Then there are guitar picks of all shapes and colors. I guess color doesn't have anything to do with it unless you can only play with a green pick.
I will include some pictures for those who want to see them. I could write a book on the shapes of guitar picks as you can see. I can only say that you should try them to decide what you like. I have also used some of the shapes for varying sounds in my music. So, just because it isn't your favorite pick, doesn't mean you can't use it.
How to Choose a Guitar Pick
The answer lies in you. There are so many different types of guitar picks because everyone is different. Plainly put, what is right for me isn't necessarily right for you. What you should do is play a lot of different picks to decide what feels right for you. There are exceptional guitarists that use a thin pick and there are exceptional guitarists that use a heavy pick. It's all a matter of preference.
With that said, I still want to help guide you. I cannot help you on the shape. You will have to try them and see what feels best to you. I can help you somewhat with the thickness. As I stated earlier, thin picks are mostly for strumming, medium picks are for strumming and picking, and thick picks are for picking leads and jazz. Now this isn't written in stone. It is a place to start. You need to try them and see. You are as unique as the stars in the sky, so pick a few picks and pick away. You just might stumble onto the one that speaks to you.
I know that this article doesn't give any hard facts on WHAT to choose. I guess all I did was give you choices, so I am going to rename this article to just "Guitar Picks". At least I hope it was informative to you.
Take Care,
mark