AKG WMS 40 Pro Mini
Review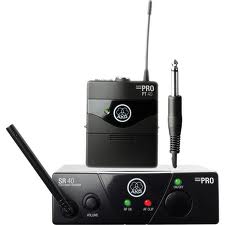 In case you didn't watch my video on opening the AKG WMS 40 Pro Mini up, here is the link to watch it. You should watch it before reading this review. AKG WMS 40 Pro Mini Grand Opening.
Below is a video and here is an overview of the features that this wireless system has:
Up to 30 hours playtime with one single AA battery
Plug and Play
Gain control on pocket transmitter
Compatible with all AKG MicroMics
Low battery indicator
Smallest and lightest bodypack transmitter in its class
The cord that goes from the transmitter to the instrument seems a little long for me, but you can use this unit for guitar, bass, keyboard, or any instrument that you can plug a 1/4″ male plug into. With that in mind, perhaps it isn't too long for some other instruments. The cord is not a problem, I just thought I would use a shorter one for my own use.
This unit is also under the 700 mhz range so you DO NOT need any license to operate it. The higher mhz ranges need a special FCC license to operate them. Another plus is that this unit is already paired. All you have to do is plug it in and play!
Below is a video I made on this unit. You can see it in operation and here my comments. I hope it is helpful.
I found this to be easy to operate and in fact, I like this unit, and I plan on using it for a while. You can't beat the price!