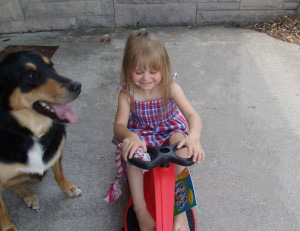 PlasmaCar
 Review:
I was looking for a gift to give my Niece. When I came upon "The PlasmaCar", I Immediately liked the fact that you don't need any batteries, electricity, or any other product that costs you more money.
So, we took it home and opened up the box. Naturally, she wanted to take it out in the store. We took it out and there are no tools necessary to put it together. They do provide a wrench to tighten the steering wheel if it should ever get loose, but I didn't experience any problems with that.
As I was reading the directions on how to make it move, she was off and going. Apparently kids already have those instructions in their genes.
The PlasmaCar will support 220 pounds, so I had to give it a shot too. I'm a man so yes I'm just a big kid.
It moves easily by just turning the steering wheel back and forth. I have to admit, it is kinda neat how it moves. They use a lot of technical terms for what actually is involved. If you follow this link, it will take you to their website that tells you all those technical terms: PlasmaCar.com. Sofi just wants it to move, and move she does. The faster you turn the wheel, the faster it goes.
I noticed that it has a long seat. I assume this is to accommodate children (or adults) of varying size, but because of that, two kids could actually ride together.
I didn't know it until I visited their website, but the PlasmaCar has won all sorts of awards. Here are the ones I know of:
2009: Voted #1 Top Spring and Summer Kids Essentials by disneyfamily.com
2009: National Parenting Center, Seal of Approval
2008: iParenting Media Toy Award in the Toy Category
2008: Fat Brain Toy Award in the Active Play Category
2007: TD Monthly, Top Toy Award
2006: TIA (Toy Industry Association) Toy of the Year Nomination in the following two categories: Outdoor Toy of the Year and Specialty Toy of the Year
2006: Learning Express Stores; Most Innovative New Product
2006: Oppenheim Toy Portfolio, Platinum Award
2005: Oppenheim Toy Portfolio, Gold Seal Award
2003: NETS (Neighbourhood Toy Stores of Canada), Gold Star Toy Award
2003: Today's Parent, Top Toy List (Wow! Status)
2001: Gold Medal, International Patent Fair, Hong Kong
That's quite a list, huh? I was impressed.
The neighbor got one too and now Sofi and her friend play for hours together on their PlasmaCars.
I still like the fact that I don't have to buy batteries or charge it. And it's QUIET; how sweet is that!?!
If you're a big kid or little kid; young or young at heart, this is a great toy at a great price.
I hope this helps you make an informed decision,
Mark