I decided to stop in at Best Buy to pick up the new Halo. If you haven't gotten your hands on this game then you are missing out. This game is exclusive to the Xbox gaming consoles. PlayStation doesn't offer it. So if you have an Xbox, you should definitely check this out. The story line is where we again have to save the planet from total destruction as our beloved Master Chief, but it is no longer us against the Covenant anymore. We now face a bigger more impressive threat, and that is the Prometheans. A race of what is thought to be an alien life force that has come back to reclaim what is rightfully theirs.
While I was there, I also checked out Call of Duty:  Black Ops 2. Activision has upped the ante with the newest installment to their army based game by giving you a future outlook on warfare. This game is available on all gaming consoles. The game will have you wowed from the start as you embark on a journey through time playing as Alex Mason and then to a futuristic world that will have you blown away! I won't ruin the story for you, but you are going to enjoy it. I am lucky enough to have a wife who loves video games just as much as I do, and she says it's SO real. She says that while watching the campaign, it feels like she's watching a movie (I agree).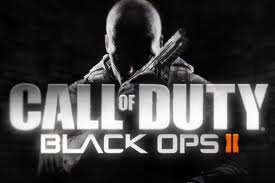 So, for the Gamers in your life, make your way to Best Buy this holiday season, and get your boyfriend/girlfriend/wife/husband/nephew/niece, and any family member or friend this great new installment of an already great game. Just know this is not just for boys, this is for all genders. I'm sure someone in your family has already talked about it with you, so help them out this holiday season and make their dreams come true.
And while you're there, You very well might make this your One-Stop Shopping Spree for everyone on your list. First of all, who doesn't like browsing and buying at Best Buy?!? And, here is a list of great gift ideas that are at Best Buy for under $100.00. I am sure there's more, but these should get you started:
Keurig B314 $99.99
Ninja Blender $99.99
Soda Stream Genesis $99.99
Soda Stream Jet $79.99
Chi Air Flat Iron $99.99
Nostalgia Cotton Candy Maker $49.99
Nostalgia Retro Kettle Popcorn Maker $79.99
Waring Pro Belgian Waffle Maker $69.99
Sony Wi-Fi Blu-Ray Player $99.99
Insignia DVD Player $29.99
Maestro by Gibson Guitar $59.99
Yamaha Portable Keyboard $99.99
Numark – iDJ $99.99
GPX Karaoke System $79.99
Canon – PowerShot A2300 $99.99
Fujifilm – FinePix JX520 $99.99
Insignia 7" Digital Frame $69.99
Shark – Sonic Steam Pocket Mop $99.99
Star Wars – Complete Blu-Ray Set $99.99
Game of Thrones Gift Set $84.99
GPS – Magellan 5110T-LM $99.99
Canon Selphy CP900 Photo Printer $99.99
Skullcandy HESH Black Headphones $59.99
iHome Portable Speakers $49.99
Crane Ultrasonic Humidifier – Elephant $49.99
Crane Fireplace Electric Heater $49.99
Logitech – Ultrathin iPad Keyboard Cover $99.99
Belkin- Cinema Folio Case for Samsung Galaxy $59.99
Incase – Cranberry/Gray iPad 3 Case $59.99
Xbox LIVE 12 Month Gold Membership Card $59.99
LeapFrog – LeapPad2 Explorer $99.99
Dream Lites by Pillow Pets – Unicorn $29.99
TigerJet Remote-Control Helicopter $39.99
Mattel – Purple Password Journal $29.99
Super Mario Chess Board Game $39.99
Vtech –MobiGo2 Touch Learning System $59.99
Jam Wireless Portable Speakers $49.99
Flip Portable Stereo Speakers $99.99
Hunger Games Board Game $19.99
On top of that, Best Buy is offering these additional saving:
We have a 10% off coupon that is good for Headphones, Speakers and Health & Fitness Products that is valid 12/2-12/29.
And:
Buy any 3 tablet accessories and save (up to $75, save $10; up to $100 save $15; up to $150, save $30). No coupon is necessary for this offer.
But wait, there's more. Best Buy is also the economical way to go. Best Buy will price match products of both in-store and online competitors throughout the season. The standard price match policy is valid on any gift purchased between 11/4-12/24 and runs through 1/24. Online Price Match must be done at time of purchase. Check out bestbuy.com for more information.
Best Buy is also offering Free Shipping on all products at bestbuy.com through 12/27. Now through 1/2/13
Best Buy can accommodate orders purchased on bestbuy.com through store pick-up until 3PM on Christmas Eve- perfect for last-minute shoppers!
Shipping deadline for holiday arrivals in time for Christmas is 12/19.
So, as you can see, once I got inside the store, I didn't want to leave. They make you feel at home and they offer all of those great products for as low of a price as you can find anywhere. I think I just might make it my first stop next year.
I hope you found this helpful and maybe I will see you there. I'm not done with my shopping yet.
Take Care,
Mark
Disclosure:
This reviewer Has been compensated in the form of a Best Buy Gift Card and/or received the product/service at a reduced price or for free.