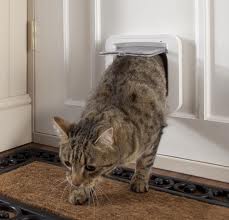 SureFlap Microchip Door
Pet Door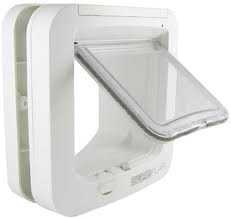 If you have EVER lost a pet, even for just a few hours, then you know how important it is to keep them safe. Our pet is like one of the family and I do not wish for my pet to be stuck outside when I have gotten busy or distracted. What if they are in danger and need the safety of the house. Although my pet evolved from wild animals, she is a far cry from her ancestors.
The SureFlap Microchip Cat Flap can do just that. It allows them access to the home, and you the peace of mind that strange animals aren't going to be wandering in. Why hasn't somebody invented this before now?!?
Although it is designed for a cat, it would work equally well for a small dog.
The SureFlap Microchip Cat Flap identifies cats using their unique identification microchip, unlocking only for your pet and preventing strays and neighborhood cats from entering your home. It recognizes all of the commonly used microchip types for pets (15-digit, 10-digit, 9-digit). In addition, the door comes with several manual settings, allowing for exit only, entry only, fully open or fully locked.
What is a microchip? Well, if you don't already know, a microchip implant is an identifying integrated circuit, about the size of a grain of rice that is placed under the loose skin between the shoulder blades. The chip does not broadcast frequencies and it is not a GPS or tracking device. It only reads the identification number and that number is referenced to the owner through the manufacturer. The microchip procedure is simple, routine and virtually painless, and it doesn't require any anesthesia. The procedure is similar to a routine vaccination that is performed by your veterinarian. And typically, a microchip will last for about 25 years, so it should last for the life of your pet. There should never be a reason to replace them. Wow, that was a mouthful.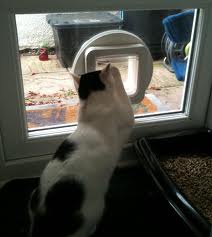 To install the SureFlap Microchip Cat Flap would be best done by a handyman (or Handywoman). If you aren't a handyman/woman, then perhaps you should get one to do it. Although SureFlap advertises that installation is possible into metal, wood, glass and plastic doors, windows and walls, some take special tools for installation. The doorway is cut out and the door is installed. A hole will need to be cut for installation. Once the hole is cut and the mounting holes are drilled, installation of the actual door only takes a screwdriver.
With all that established, let's take a good look at the functionality of the product.
Features include:
Learns your cat's existing identification microchip
Compatible with all common microchip types
No need for a collar or tag which can become lost or snagged
Simple one-button programming learns your cat's chip number in seconds
Includes four manual settings, allowing for exit only, entry only, fully open, or fully locked..
Quick and easy to install into doors, windows and walls
Fits into the hole left by most existing cat flaps
Battery operated – typical battery life up to 12 months
Stores up to 32 cats in memory
Weight: 3.9 lb
Dimensions: 4 in × 7 in × 7 in
This door is actually amazing! To program it, you just push a button and the next micro chipped animal to stick its head in the door is saved in memory and the door will then unlock each time that chip is read. The door doesn't actually open, it just unlocks, your pet will need to push it open and after they pass through, it locks again. The door is see-through so most pets take to it with ease.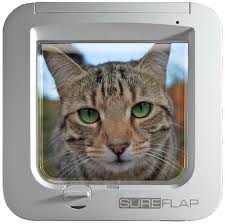 The door is sealed so no bugs, wind, or unwanted animals can enter. Upon using the SureFlap Cat Door, I have found it to work exactly as expected. My pet can come and go as it pleases and I have the peace of mind that the door isn't open. I don't have to get up to let them out and I no longer need a litter box in the house. I like that.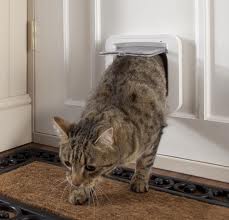 I know that this product isn't one I usually do a review on, but I would recommend this product to anyone with a cat or small dog. I have found it to be a great product.
I hope you found this to be helpful and informative,
mark