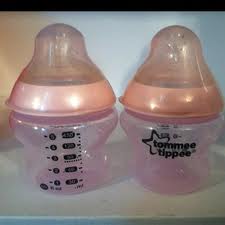 Tommee Tippee
Closer to Nature Baby Bottles
Review:
Whether it is your first or your eighth baby, you always want the best for them. We, being in the 21st century, should have technology keeping up with our needs as parents.
Tommee Tipppee has been keeping up with the times. Their closer to nature baby bottles is designed with the conscience parent in mind.
There are more and more single parents out there and not only does the mother need to be informed, but the father needs to be as well.
So let's take a look at the Tommee Tippee Baby Bottles:
The bottles that I got were the 5oz. bottles but they come in different sizes. They also come in different colors. And, they come in different flow rates. That's a nice feature. Not all babies are the same and the flow rate increases with age.
The different flow rates are:
slow flow (that's what I got)
medium flow
fast flow
variable flow
The other features are as follows:
Natural Feeding – scientifically designed to be more like mom.
Easier to Latch Onto – also designed more like mom
Advanced Anti-Colic Valve – lets baby feed without a vacuum
Great Shape – easier for you and the baby to hold on to
Safe for Your Baby – BPA and Phthalate free product
I got the 3-pack and that's a good way to get started. I get busy sometimes and am not always able to keep up with cleaning them when there is only one bottle. I actually plan to get more.
I didn't see any reviews on this product, so I wasn't sure I would like them, but I am very happy with them. They also come with a cap for traveling for those of us on the go, or if you want to put them in the fridge for their usual after-hours feedings.
They are made of durable plastic. Dropping one (even full) is no problem. You can put them in the dishwasher if you want of you can purchase a sterilizer to keep them germ free. With proper use they will outlast your baby's needs.
They are sold as some retailers or you can go to their website at: http://www.tommeetippee.com/.
Take time to check it out. Your baby is the grownup of the future. Do all you can to give them a great start in life.
Mark