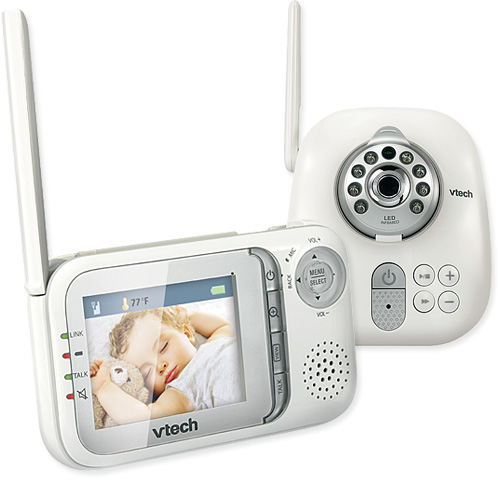 VTech Safe & Sound Baby Monitor
Review:
I love being a dad. I wish I could say I was a perfect dad, but I'm human and make mistakes. Raising a child in this day and age isn't like Grandpa's ease of worry. There are so many things to consider that I can barely keep up.
Our children's safety is always a concern. Is my child cold or too hot, is there a fire, what are they doing, are they sleeping safely? There's more traffic, more things that can cause an accident, and I barely know my neighbors let alone the people down the street.
And when I saw the VTech "Safe & Sound" full color video and audio monitor, it went right to the top of my list of things to get.
I visited their website and this is what they said about it:
Expandable System – Supports up to 4 baby units.
Temperature sensor on parent unit displays the temperature in the baby's room.
Talk Back Intercom System – 2 way communication between the units.
Infrared LED – Full motion video in light or dark settings.
Sounds pretty good, and now here is what I found:
The units are well made and durable. Both the monitor and camera are compact and mobile. They are battery operated so you can take the monitor (or camera) anywhere you go. It also has a battery indicator so that you know how well it is charged. That's a great feature, and it has a low battery alert so that you can charge the rechargeable battery.
After mounting the camera on the wall or dresser, you can go up to 1000 feet away and still see just as clearly as in the next room. That's over 3 football fields in length. My home isn't nearly that big, but it's nice to know.
A feature that I haven't gotten to use is the multi-camera view. You can add cameras (up to 4) and watch them all at the same time. The screen splits for more viewing. How cool is that? As my family grows, I can add more cameras as needed.
The hand-held monitor has these features:
On/off switching
View change for adding cameras
Talk button to communicate with your child
Volume level
5 lullabies that you can play for your child.
A temperature sensor that tells you the temperature in their room
Automatic infrared night vision so you won't disturb them to see them at night
You can zoom in and out to see things better
And a vibration sound alert to tell you something is happening
Peace of mind and my child's safety doesn't have a price. I would give anything and everything to guarantee my family's safety. Although nothing can guarantee their safety, VTech has done a lot to give me real peace of mind. I can look at the monitor anytime I want (day or night) and see with my own eyes that my daughter is safe and sound; and at a price that's a lot lower than I expected. Here is a link to their website and you can see for yourself: http://www.babymonitors.vtech.com/babymonitors/index.cfm/shop/video-monitors/
As a parent, I wish the screen was bigger, but then it wouldn't be very mobile. I like the fact that I can put the monitor in my pocket and go upstairs, downstairs, to the bathroom, in the back yard, garage, you name it; and I can still see my little angel and know without a doubt that she is alright.
Well, I guess you can tell that I am sold on it. I cannot tell you how much better I feel when I look into the monitor and see that all is well. And sometimes, I just want to see her.
No, I'm not perfect, I'm a man. But I care about my family and I am happy we have the VTech Safe & Sound baby monitor. You will be too…
Mark