DigiTech RP-300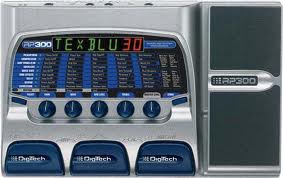 Review:
DigiTech is a well known name in the music industry. Here we have an RP-300 Multi-Effects Processing Pedal. The RP-300 has a lot of options for you. Let's take a look at some of the features that DigiTech has put into this multi-effects pedal.
By just looking at the face of this pedal, we can see that there is a lot going on. The 6 character alphanumeric and 2 character numeric displays combined with the 5 knob-matrix editing system provide a simple, straightforward user interface. To set sounds of your patches, you really won't need to look at the user manual because it is all right there in-front of you (where it belongs). There are 2 foot switches allowing you to move to different patches, and there is another switch on the right that allows you to switch to the "A" and "B" patch that each user patch has. This feature doubles the amount of sounds that you have.
The Digitech RP-300 also has an expression pedal that can be assigned to a number of different functions; from volume and gain control to Crybaby wahwah sounds and more. The built-in expression pedal can be assigned to control your choice of parameters as you play. Each effect includes up to 5 adjustable parameters which provide the flexibility to create the exact sound you're looking for when you need it.
There are 40 artist pre-set sounds that are factory set and each one has an "A" and "B" channel giving you 80 different sounds. There are also 40 user patches (also with "A" and "B" channels) that you can save your own sounds in. This gives you 40 user patches and 40 factory patches and each having an "A" and "B". So the total number of sounds you have is 160! Although 80 is all you can change, still, I think for most working musicians, it will cover all the bases.
The RP-300 uses the tones of 12 of the best in vintage and modern Amps with 26 fully programmable, studio quality effects, and you can have 12 of the effects on simultaneously.
The built in Drum Machine is a great tool for improving your timing with your choice of 30 different patterns with an adjustable tempo and volume level.
The RP-300's chromatic tuner lets you quickly check or tune your instrument to one of 4 different tuning references.And you do it visually. The RP-300 mutes your amp to eliminates the annoying "Tune-Up Song".
The RP-300 also includes DigiTech's Learn-A-Lick feature which samples a phrase from your favorite tape, CD, or MP3 player and slows the playback from 1/4 speed to full speed without changing pitch, which allows you to learn solos note for note.
The rear panel features a single 1/4″ input, 1/4″ left and right outputs, 1/8″ stereo headphone output (for late night rehearsal), and a 1/8″ stereo Jam-A-Long/Learn-A-Lick input.
I have been playing guitar and bass for some time and I like the flexibility that the DigiTech RP-300 provides, and at a price that doesn't break the bank. I am not going to tell you that this is the only way to go, but for the money, it has me sold. I can get just about any sound I want. I won't lie to you, there is a bit of a learning curve for getting the sound you want. Experimentation is the key. Try different effects at different settings and before you know it, you will be making YOUR guitar (or keyboard or bass) sound how you want it to.
I also would like to add that these effects (and really any digital effects) are made to imitate sounds. They will never truly sound like the sounds they are trying to imitate. And if you are playing through a combo amp, don't expect it to sound like you are playing through a Marshall Stack. I believe that this pedal does a good job and sounds great!
Below are links to my videos that will hopefully answer all of your questions. If not, just ask and I will do my best to let you know.
I hope they are helpful.
Take care,
mark
———————————————————