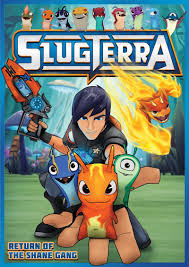 This animated television series is now available on the DVD "Return of the Shane Gang".
Here is a teaser:
This DVD contains five episodes of the show in widescreen with a Digital Dolby 5.1 soundtrack. It also includes Bonus features of three episodes which allow the characters to give a little bit more insight to their world and how it works. Return of the Shane Gang also includes an intro into Slugterra with creator Asaph Fipke and story editor Rob Hoegee.
The storyline is about Eli Shane. He is wants to be the greatest slug-slinger of them all! Eli has to collecting, training and duel with little critters called slugs.
Eli and his gang (known as the Shane Gang) consists of Kord, Trixie, and Pronto. They explore caverns and challenge rivals (as well as each other) to friendly duels in their underground world.
The Shane Gang are determined to restore law and order to Slugterra and take down Dr. Blakk. Dr. Blakk's  experiments have transformed the slugs into monstrous versions of themselves (called ghouls) which makes them more threatening and much less controllable.
If you have never seen Slugterra, you might want to check out this DVD. They really have put a new twist on "putting a SLUG in your gun"!
Hope you like it,
Mark