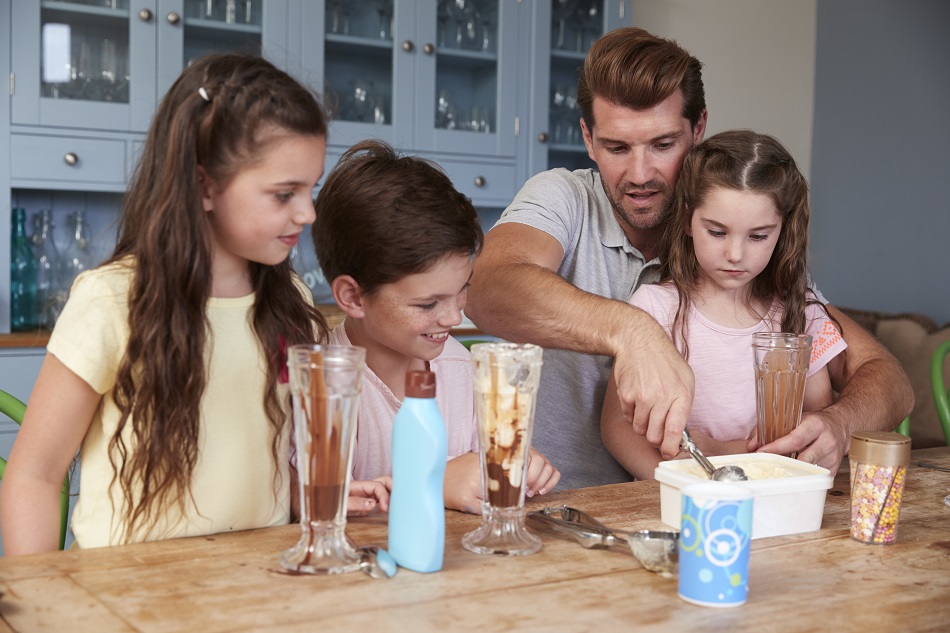 I'm a big fan of ice cream. In fact, I eat ice cream nearly everyday. Now my wife would tell you it's not fair, I can eat ice cream everyday and not gain a pound. While she states if she were to eat ice cream everyday she would pack on the weight. Well, I'm not sure that would be true, she really tiny and I don't think she's gained a pound in the last ten-years. But, who am I to argue with the wife?
If there's one thing that stands true about ice cream, there is nothing as delicious as HOMEMADE ice cream! This amazing ice cream maker is very easy to use too. Not like the old kind that makes your arm feel like it's going to fall off before you get the ice cream ready to eat!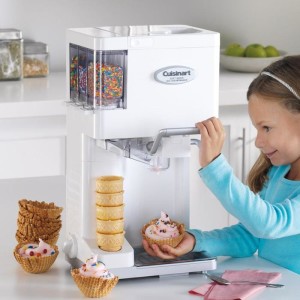 This ice cream maker produces 1 1/2 qts. of soft serve ice cream, yogurt, sorbet, or sherbet in 35 minutes without the need for chemicals, salt, or ice, and allows you to mix your own toppings from three separate hoppers that automatically dispense nuts, cookie crumbles, and sprinkles through a funnel directly into a tube of frozen confection as it falls into a waiting bowl at the push of a button. The unit operates from a single switch, and its double-insulated freezer bowl holds its temperature (requires 12 hours of freezing prior) while mixing all the ingredients needed to make any of the products; a single lever dispenses soft-serve (harder ice cream must be removed from the freezer bowl). All parts remove easily for cleaning, and the device holds a stack of flat or sugar cones. Plugs into AC. Includes instruction booklet and recipe book. 18 1/4″ H x 9 3/4″ W x 9″ D. (14 1/2 lbs.)
What more could a guy ask for? Our kiddos love it too. We have family night once a week and the ice cream maker has become the center of our family night. We make a new recipe each week, add our favorite toppings and either pop in a movie or play a board game.
The Automatic Soft Serve Ice Cream Maker makes the perfect gift for that ice cream fanatic or for the entire family. And the prices is very reasonable. You can purchase the Automatic Soft Serve Ice Cream Maker over at Hammacher Schlemmer! They have great customer service too!
Hammacher Schlemmer has so many unique gifts to select from this holiday season. So when you doing your holiday shopping this year, be sure to check out their amazing gifts for your loved ones this holiday season.