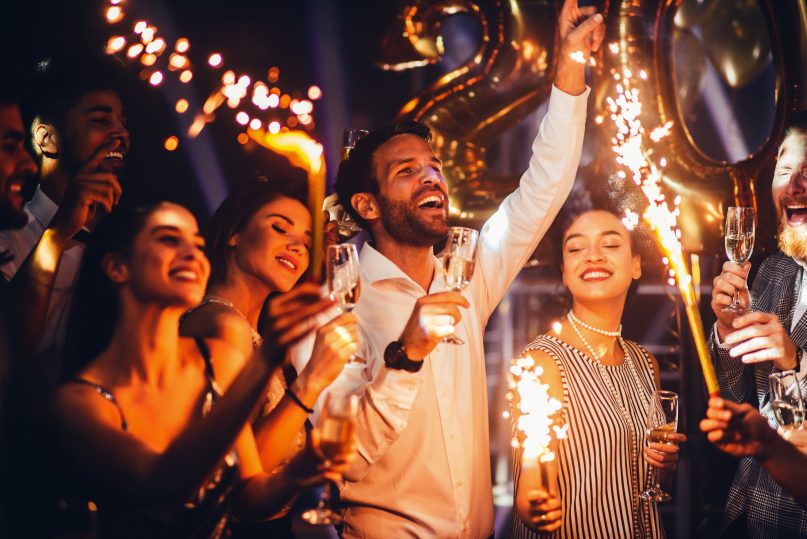 The new year offers new possibilities, but those possibilities come with a lot of pressure. A ton of us make New Year's resolutions, but one study indicates that only eight percent of people meet the goals they make on January 1st.

You'll probably feel pressured to do things like go to the gym more often, start a new skin care regimen, or eliminate carbs from your diet. It's tempting to try and change everything negative at once, but attempting that makes us feel like a failure if we fall short. That's not helpful. Instead of making your New Year's celebration stressful, you should do the opposite: plan a party that will help you blow off some steam first thing in the new year. Here's how to accomplish that.

Keep the guest list short

Sure, you might feel pressure to invite cousins and coworkers to a holiday party, but now that the holidays are over, it's time to release yourself from some social obligations. Don't invite people just because you're afraid that they'll ask, "Why wasn't I invited to your party?" For one thing, it's rude of them to ask that in the first place. You don't owe anyone an explanation for who gets invited to a private gathering at your house.

You want to invite people who make you feel happy and relaxed. If Heather from accounting will just stress you out by talking about her in-laws, then don't invite her. Instead, ask a few of your nearest and dearest to come to your house for a low-key night full of fun, stress-busting activities. Friends make you happier and healthier, and it's all too easy to get isolated. If anyone asks what the theme of the party is, tell them the only theme is chilling out.

Get party favors

You don't need to host a wild, all-night rager in order to get a lot of outlandish party favors. Party favors may feel a little silly, but that's half the charm. Look to party companies like Premier Glow for party favors that will help everyone loosen up. For instance, you probably enjoyed blowing bubbles as a child — it turns out they can help soothe you as an adult, even if they are a little messy.

Have you always wanted an excuse to rent a confetti cannon? Now's your chance. You don't have to celebrate an engagement or promotion or anything at all, except for making it to another year with your health and sanity more or less intact. If you want to play golf at midnight in your backyard, then get some glowing golf equipment and have a ball. Glow sticks are a blast, but you may feel like you're too old to enjoy them now. You're never too old to enjoy having glow stick fights with your friends. Don't wait for permission from someone else. In this situation, the only person you need approval from is yourself.

Play goofy games

This is not the place for a high-stakes game of poker. At this party, you want the stakes for every game to be as low and ridiculous as possible. If you like the idea of play money, then hand out Monopoly money at the beginning of the night. If you prefer the stakes to be more abstract, then stick to games like Truth or Dare.

Make the questions as silly as possible. If that makes you feel like a teenager at a sleepover again, then that means everything is working as it should. Your adult life will return in full force once the party is over, so don't make things more serious than they have to be.