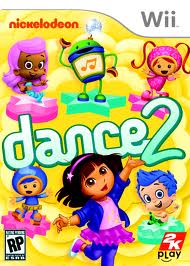 Nickelodeon's "Dance 2" for the Wii
This is a new Wii game that lets you dance or workout with your Nickelodeon friends. You choose whether you want to work out or dance. There are 20 Nickelodeon friends to dance with and you choose the songs you want!
This game features twice as many friends as the original game with enhanced features like "Freeze" mode. If you enjoy the Nickelodeon experience, then you're going to love this. Times when Nickelodeon isn't on, just pop this game in the Wii and you're ready to enjoy working out and dancing with your friends.