Lesson 1
Music Theory Basics
The Basics
If you already have a working knowledge of music, then perhaps you already know this stuff. Still, it is good to review. We want to build our house on solid ground. Any missing pieces can keep you from understanding the whole picture. It is what the rest of the music is built on. I also want to be sure that those who know absolutely nothing about music, can also keep up with reading, writing, and even composing music. If you have any questions, feel free to use the comment section and I will personally answer your questions.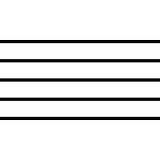 This is a staff. The staff is where the notes are placed.

The staff is made up of five lines and four spaces. Every line or space on the staff represents a note. The progression goes as follows: A, B, C, D, E, F,  and G. Then it starts all over again. From A to A is one octave. If we were to go two octaves it would look like this: A, B, C, D, E, F, G, A, B, C, D, E, F, G, A. We will get into that more later.
Clefs are used to clarify the pitch of each note and are placed on the staff. Two clefs are used that covers most songs,the treble clef and the bass clef. and they are as follows: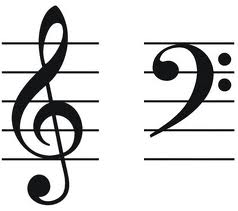 Treble clef                           Bass clefs.
Just so you know, there are other clefs. There is one higher in pitch than the treble clef. It covers higher notes like that of the piccolo, and there is one lower in pitch than the bass clef. It covers lower notes like that of the tuba. But for now, let's just discuss these.
First, we will discuss the Treble Clef (also called the G Clef). The line in which the clef wraps around (it almost looks like cross hairs on a gun scope) is known as G. Any note placed on this line becomes G.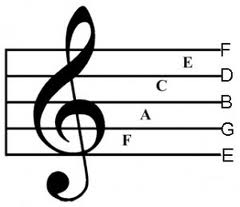 The note on the space above G is A. (Remember, there is not an "H" note). The line above A is B and this process continues alternating (line, space, line space).

When the staff runs out of lines, then we have to add something, Ledger Lines.
A ledger line is a small line that extends the staff when you have a note that is higher or lower than what can be placed on the staff. When you only have a few notes, ledger lines are easier to use than it is to make up another staff altogether. This is what it looks like with all the ledger lines on the treble clef staff:

Next, let's look at the Bass Clef (also called the F Clef). The staff line in between the two dots of the clef is an F note. Now let's look at the rest of the staff.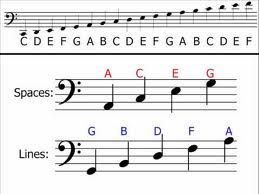 There you can see the lines, spaces, and ledger lines of the bass clef.
And finally, here is the Grand Staff.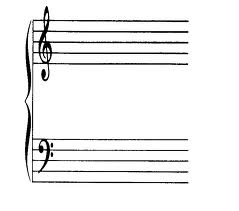 This is characterized by the brace that connects the bass and treble clef. Between the two is one ledger line that is called Middle C. Now you can see the relationship between the two staffs.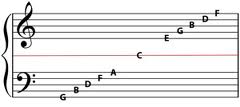 In addition to this, I want to tell you about one last thing. On the staff there will be vertical lines as seen below:

The line is called a Bar Line. This is what divides each segment of time in music. This duration of time is called a Measure. In Lesson 3 we will come to understand this better. For now, it is enough to know what it is.
This concludes Lesson 1. I hope you found it to be informative. You should review it and know it. Then go on to Lesson 2.
Again, if you have any questions, please feel free to ask.
Take care,
mark