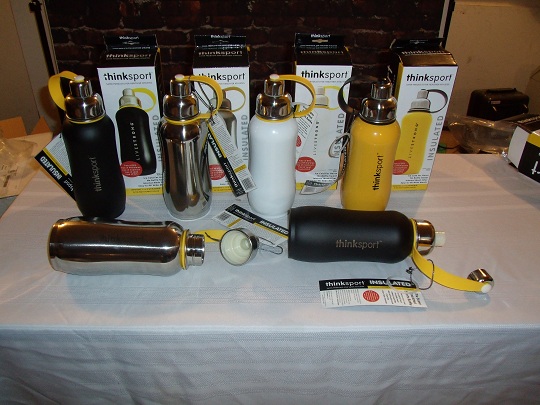 thinksport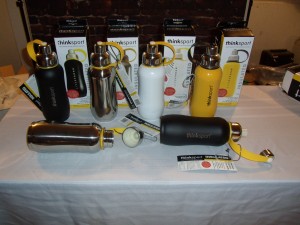 Review:
Below is a video and following that is a more detailed review of this product. Enjoy…  
      There are a lot of drinking containers on the market. Most of them made of plastic. Why? Because it's light weight and cheap. Well, I for one think that cheap isn't necessarily better. I also think that cheap isn't always cheap if it doesn't last. If I spend $7.00 on a drinking container and it only lasts a couple of months, that equals $42.00 a year for "cheap". That doesn't sound so cheap after all. I also want to say, "What's in the plastic that we drink from if we are purchasing it from the cheapest source?" ThinkSport has been addressing these issues since day one. If you take a good look at it, I think you will be as happy as I am. Just taking the container out of the package let me know that it is well made. It comes in four colors (white, yellow, black, and stainless steel). They are durable and elegant looking. And the price is great for something that should last for years. I have paid that much for a coffee cup that broke the first time I bumped the table. It also has a removable wire mesh filter to keep icecubes or tea leaves from getting in your mouth.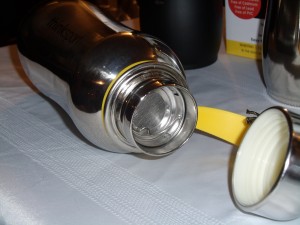 Let's look at their features:
ThinkSport is made of a double-walled stainless steel construction. This eliminates sweating.
It is vacuum sealed to keep cold things cold and hot things hot.
They only use safe materials that are free of BPA's, Phthalates, PVC, Cadmium, Lead, and biologically toxic chemicals.
It has a very Lightweight Construction.
Interior mesh filter that stops ice or tea leaves from being consumed.
It has a wide mouth for easy filling.
And it has a Spout top for easy drinking.
It has a strap so you won't lose the small cap.
If that isn't enough to wet your whistle, how about the fight against Cancer? Well, ThinkSport is a proud supporter of "LiveStrong" in their fight against Cancer. And purchasing this product helps guarantee a minimum of $1.5 million will support LiveStrong in the fight against Cancer. I really like mine. It is easy to grip and doesn't sweat even with ice in it. I can throw it in my backpack or glove compartment without worrying about paperwork or other things getting wet. My coffee stays hot for hours and if I take it to work, my beverages are still cold at lunchtime. I can't say I do much jogging, but if I did, it is lightweight enough to throw in a fanny pack so that I would have something to drink along the way. If you are looking for a sports drink cup or just a thermos to take to work, you will look long and hard to find a more durable or fashionable cup than this. If anything should ever happen to mine, I'm going to order another one! Visit their website or just click on it here (thinksport) to see what they have for you. They also have a facebook page that is informative and sometimes funny. Go there from here: thinksport on facebook. Till next time, take care, Mark Update!!! thinksport is teaming up with Route 249 to give away a 4-pack of these great insulated bottles to some lucky contestant! The Giveaway will be from 6/15/12 to 6/28/12. Good Luck!