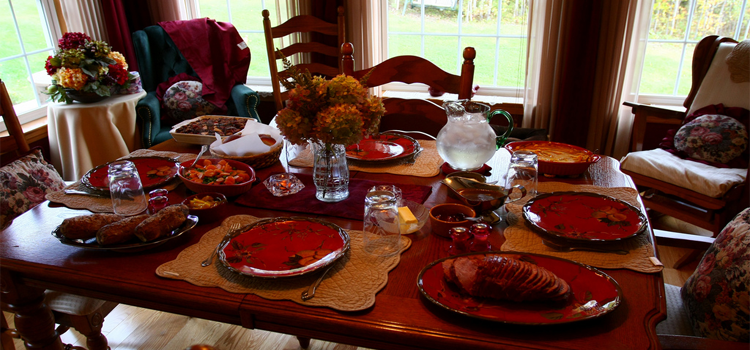 Whether you can't make it home for Thanksgiving this year or you and your friends want to celebrate thankfulness with a full-dose of turkey and a fun get-together, Friendsgiving is right around the corner. How you celebrate this year could have an effect on all of the Friendsgivings that follow. After all, traditions will be made, bad ideas will be thrown out, and you and your friends will get a feel for what to do and not do during this time of the year.
Whether it's your first Friendsgiving or the one hundredth, here are some essential ingredients to add to the friendstivities this year.
Plan the feast
Planning, of course, is an essential part of a Friendsgiving feast. While many people will say it's up to the host to cook the turkey—which makes sense since the host has full access to the oven—it's up to the entire group to plan out all aspects of the food. If the host rather makes sides or hors d'oeuvres, then he or she can do that. The host can also make everything all the way to nothing.
Friendsgiving tends to work best when it's potluck style. Regardless, planning ahead of time so everyone knows their food role is the key, as is making an invitation list and sending out the invitations ahead of time. Communication is a gift and every successful Friendsgiving needs it.
Everyone's Friendsgiving is different, but it's best to incorporate themes that speak to you and your guests. For instance, if you and your friends spend your free time at a dance center, you might choose to create a dance music playlist for some dancing after dinner. If you and your friends love puzzles and competition, you can set up a few board games for a more mellow vibe.
Appease everyone's appetite
Not everyone likes turkey and stuffing. Not everyone eats meat. Some people stay away from carbs. Others steer clear of desserts and sweets.
The most successful Friendsgivings will appease all appetites so everyone enjoys the food and no one feels left out. Make sure no one has any food allergies and that there's something for everyone.
Wine, champagne, or any toasting beverages is a must
It doesn't matter if you hit up a liquor store Woodbridge, NJ or a grocery store in Kentucky, picking up beverages that will specifically be used for toasting time is a must. If it's a dry Friendsgiving, then apple cider, eggnog, or juice will work just fine.
Toasting at some point in the celebration will help to give thanks and an opportunity to thank the host. Just be sure that if guests are going to partake in drinking alcoholic beverages, everyone has a ride home.
Have guests turn in their phones and car keys when they arrive
While you don't want to put your guests on lockdown, make this a get-together that doesn't feature everyone looking down at their phones constantly. We're addicted to screens, and giving up keys is a must if alcohol is going to be involved—no questions.
There will likely be guests who love to stay current and others who want to watch the big game, but this should be a time when everyone can disconnect and dive right into good conversations with one another. Make memories. Create traditions. Don't spend all of your time on a screen.
Take it all in and remember what Friendsgiving is about
Friendsgiving might not feature all of the traditions of a typical family Thanksgiving, but that's the beauty of such celebrations. This is an opportunity to make your own traditions with your family away from your family—your friends.
Take it all in and create everlasting memories. Make sure to go around the room in some form and share what everyone is thankful for. This is a holiday that revolves around the simple aspect that's being grateful. What are you thankful for this year? 'Tis the season!