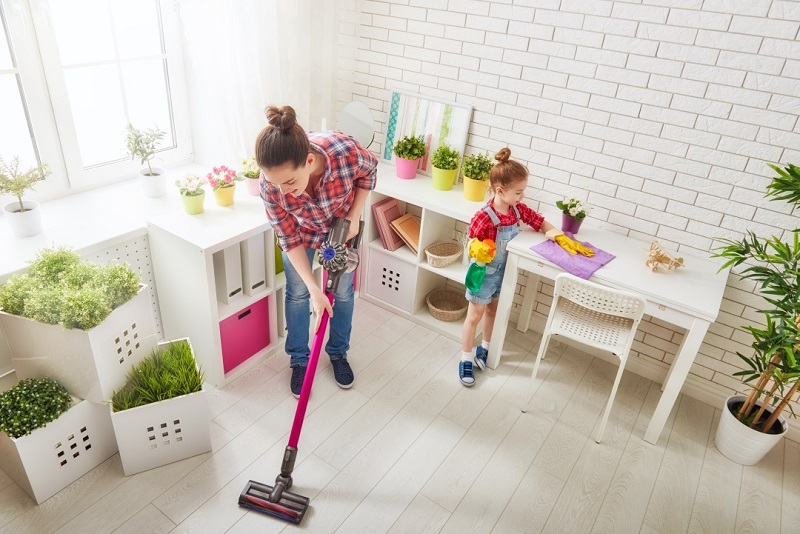 Smart technology is moving forward at a rapid rate.
However, until we all start living in smart, self-cleaning homes, cleaning the house will be an inevitable chore that we all have to do.
Although we might need to wait a bit longer before that future arrives, that still doesn't mean that we cannot make things easier for ourselves right now by making smart choices when it comes to the tools we use around the home.
One way to do that is by going cordless, especially when it comes to your vacuum cleaner. There is such a large choice that it can be overwhelming to know which is the best one to choose.
With so many cordless vacuum reviews out there, you need to separate fact from clever marketing.
Read on to find out all the advantages of choosing a cordless electric vacuum cleaner over a traditional corded model.
Top Reasons to Go With a Cordless Vacuum
Here are some of the benefits of going cordless that will make you change the way you look at your conventional corded vacuum cleaner.
#1 Convenient
What makes cordless vacuums so popular is their flexibility and their convenience. With cordless electric vacuums you can easily take care of quick clean ups, and you won't have to waste time pulling out your corded vacuum, thinking about where the closest outlet is, plugging it in and watching the cord so you don't trip, which will make your process longer and much less fun.
In addition, you can easily take a hand-held cordless vacuum to the car or garage to have a quick clean up without the hassle of using an extension lead.
#2 Safe
What makes these types of vacuums safer than their corded counterparts is the fact that they don't have a cord dragging around behind them when you clean, posing a tripping hazard to you and everyone around you.
Moreover, cordless vacuums are not using powerful, live electricity straight from the plug (they aren't plugged in to the mains supply), which means that many of the safety problems which we may be concerned with when it comes to electricity are also non-existent.
Understanding a little bit more about how vacuum cleaners work will help you realize they are safer.
#3 Less Time-consuming
Since cordless electric vacuums are light and easy to use, and have great speed and lots of available attachments, they make the process of cleaning up the house run a lot faster than usual.
They can help you easily reach tight and inaccessible places, while providing you with flexibility, since they do not have a cord dragging around behind them, getting entangled or stuck and slowing you down all the time.
#4 Quiet
Cordless electric vacuums are not as noisy as most standard vacuums are. They are typically super quiet which means that you won't have to worry about bothering your neighbors or your family members while you do your cleaning. You'll barely even notice any noise, which is not the case with most standard corded models.
On the flip side of that, they are quieter because they usually don't produce as much power. Cordless machines produce from 100-350 Watts while corded models usually produce up to 750 Watts.
Watts are used to measure the power of the motor, but not necessarily how efficient the machine is at picking up debris.
#5 Lightweight
Cordless vacuum cleaners are usually much lighter than the conventional types. They can weigh as little as 2.5 kg, whereas the standard corded models are usually at around 7-8 kg.
#6 Easy to Store
Cordless models are not just lightweight, they are easy to store as well. They have a compact design that fits perfectly in the closet, under the bed or behind the door and doesn't take up too much of your space.
Some cordless vacuums come in several detachable parts as well, which means that they can be safely stored in a box and take up even less space than they typically would.
#7 Easy to Manoeuvre
Cordless vacuums are also great for cleaning tricky places that are not so easy to get to, like your car, stairs, counter-tops, high shelves and other not so accessible places. The great thing about cordless vacuums is that they are quite easy to handle, and carry around wherever you need to go.
Most cordless vacuums have a handheld detachable cleaner that works great for such purposes as well.
They come with a lot of attachments as well, like different types of brushes and extensions to help make your process easier than ever.
Things to Check For When Buying a New Cordless Vacuum
If you're considering changing your traditional vacuum cleaner for a new cordless model, here are a few things you might want to check while you're in the shop:
Switch it on first. This way you'll get to see how noisy it is, how easy it is to manoeuvre and use and how powerful its suction is.
Pick it up. This will give you an impression of how much it weighs and how easy it will be for you to carry it around your home and up and down stairs.
Check if it fits in tight spaces. Lay it flat to see if it can fit under furniture or if you'll need to move your furniture around in order to clean your house.
Check the attachments. Check to see if it has attachments, like brushes and other accessories which will help you reach the inaccessible and tricky places in your home.
Check the size of the bag. Check the bag or the canister to see if it can be easily replaced and removed and if it's the right size for your cleaning needs.