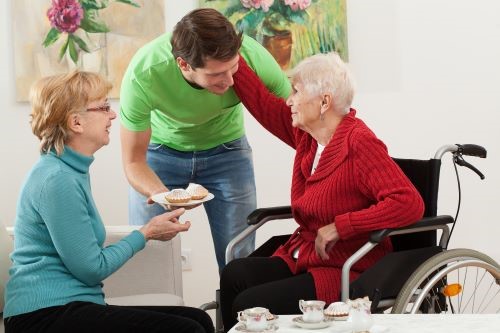 Retirement is a well-deserved reward that you have earned with years of hard work. This is the time when you can focus on yourself and enjoy the fruits of your labor. As you near your retirement age, you need to start thinking about how and where you'd like to spend this time. A majority of older Americans are choosing to remain in their own homes through their golden years.
When you think about retirement homes, they don't necessarily need to be sterile, hospital-like places. They can be designed to be functional and still look good.
Universal Design is a set of design principles that allow you to build a house that is applicable for every stage in your life. These principles include features that are designed to provide independence even to the very elderly and offer personalization so that you can show off your individuality in your home. This is a great option, as you can plan a multigenerational house that's as friendly to the needs of your grandkids as it is to yours.
Here are a few tips to help you customize your home for retirement:
Location
Where you choose to spend your retirement years is important. A quiet, pollution-free neighborhood with a comfortable climate, close to medical facilities, and with easy access to city areas and transportation facilities is ideal. You may also consider picking a location close to family and friends.
This is also the time to connect with yourself and spend time on your hobbies. So make sure you can pursue your hobbies in the location you choose as well.
Stairs
Walking up and down stairs can become tricky as you grow older. You can install an elevator or stair lift to make navigating your house easier, or you could go for a single-story home, which would avoid the stairs altogether.
Wheelchair Access
Exterior ramps can be added in entryways for easy access. All doorways and corridors should be wide enough to accommodate wheelchair movement.
Lights
Lights in the house can be motion-activated for convenience. As our eyes get weaker in old age, it gets more difficult to find the light switches around the house. So lighted switches can be used to make them easy to find.
Door Handles
Any mechanism that requires you to twist or otherwise strain your hand can be challenging for people with arthritis. These knobs and handles can be replaced with levers that might be easier to operate.
Toilet Safety Rails
Install rails on or around toilets to enhance support while using a toilet.
Shower Benches or Walk-In Tubs
The risk of slipping inside the bathroom multiplies as we age. Installing shower benches or walk-in tubs helps you maintain your balance and avoid potential injuries while bathing.
Slip-Resistant Tiles
While customizing your home for retirement, the biggest problem area is the bathroom. Installing slip-resistant tiles inside the shower area or, better yet, all over the bathroom ensures safety from slipping.
Kitchen Layout
Any kitchen has three primary work stations—oven, sink, and refrigerator. These appliances are used most frequently and as such should be placed at the same level and as close as possible to each other.
Kitchen Appliances
Choose appliances that come with smart safety features, like automatic shut-off. These options will ensure the safety of you and your house.
Scalding
Anti-scalding temperature controls should be installed in all bathrooms and sinks to avoid accidental burns from overly hot water.
Cabinets
Kitchen and bathroom cabinets that are installed at a very low or high height or that have deep bottoms can start getting difficult to access as you age. Installing slide-out shelving in lower cabinets lets you reach things even in the very back. Accordion-style racks that pull out and down are helpful for cabinets in higher places.
Living Room Layout
As you age, you may run into mobility issues. Your living room should accommodate potential future walkers or wheelchairs. This means that besides being spacious and uncluttered, your living room layout needs to avoid any arrangements that might be a tripping hazard, such as a table with outward-curving legs. Make sure you can easily reach the furniture you use the most, without other pieces of furniture getting in your way.
Flooring
Choosing the right kind of flooring is critical as you customize your home. In general, can choose either hard flooring or carpet flooring. Both have their merits. Hard flooring is less likely to be a tripping hazard, but if someone was to trip on this floor, the injuries could be quite serious. Carpet flooring is soft and would provide cushioning if someone trips and falls on it, but its shagginess also makes a fall more likely.
Another factor is the ease of maintenance of each type of flooring. Hard floors are easier to clean and maintain than carpet floors. You can select the type of flooring that works best for you, but while making that choice, remember that your goal should be to prevent falls; not to make the fall more comfortable.
As you contemplate your life after retirement, think of ways to make your new house a comfortable and pleasant place in which to spend your golden years.  Think of spacious hallways, natural light–filled rooms, high-tech kitchens, and clever storage solutions. Perhaps you'll need fewer bedrooms and larger spaces for lounging and pursuing your hobbies. Your customized home doesn't need to be large for you to enjoy your retirement. A decently sized small house will have lower design, decorating, and maintenance costs, which will allow you to live out your days without worrying about your funds.
Finding the right partner to build your dream retirement home is as critical as selecting a spouse. You'll have a pretty close relationship with your builder and their team. While the price is an important factor, you should also consider their reputation, their personality, and their understanding of your expectations from your house. Get in touch with reputed builders like New Tradition Homes in your preferred location to start living your dream.