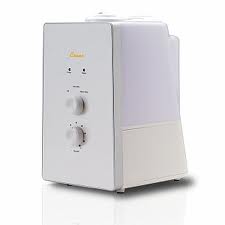 Crane Germ Defense Humidifier
Review:
Our home is very well insulated. It keeps the heating and cooling costs down. However, this also makes the air very dry and my sinuses suffer somewhat from this. As I was searching for a humidifier, I found the Crane "Germ Defense" ultrasonic warm and cool mist humidifier. Wow, that was a mouthful! Anyways, I liked the fact that it helps to fight germs from growing and the fact that I could use it for warm or cold mist humidifying.
I visited the site (http://crane-usa.com/) and these are the features:
Germ Defense antimicrobial protection in water tank creates a germ free mist
Choose warm or cool mist for customizable comfort
Ionizer enriches mist for fresher air
Increases air moisture for easier breathing and a good night's sleep
1.2 gallon water tank runs whisper quiet up to 72 hours
Mists up to 2.5 gallons of moisture per day
Effectively humidifies rooms up to 500 square feet
360˚ nozzle for directional misting
Auto shutoff safety sensor
Uses less energy than a standard household light bulb
Does not require a filter
When I got it out of the box it only took about 5 minutes of reading and I knew what to do. Actually, most of my reading was general cleaning and understanding how an ultrasonic humidifier works. Crane simplifies it for you; just fill it up, plug it in, and turn it on. It doesn't get any easier than that!
They have a digital and a manual unit. I got the manual one, but they both do the same thing. I guess it's up to personal preference. Here is a picture of the digital one: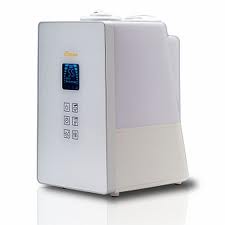 When you turn it on it is by far the quietest humidifier that I have ever had (or seen for that matter). I guess that's one of the pluses for having an ultrasonic unit.
We have hard water, so I opted to use distilled water. Crane sells a demineralization filter that you can use with this unit, but for now, I think I'll just use distilled water. It works very well and automatically shuts off when the water level is too low.
Since I have been using the Crane Humidifier, I no longer wake up with dry sinuses or my usual dry cough. And when the air was really dry we would zap each other with static electricity and now we have eliminated that annoyance.
The multi-directional nozzle rotates all the way around to aim it wherever I want it.
If you have been looking for a humidifier, remember the name "Crane". You will want to consider them in your decision. I can't say that I understand exactly how it work, I just know it works. I won't be without a "Germ Defense" Humidifier anymore. I mean, why would you want to be putting germs into the air that you're breathing?
Thanks for listening and I hope this helps you in your search for a good humidifier.
Mark
Crane has agreed to do a giveaway of this same product so if you would like to win one of your own: