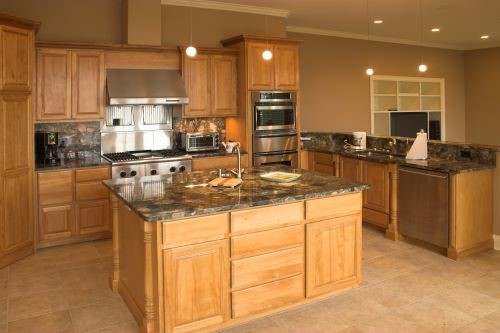 It's often remarked that the kitchen is the heart of the home. That's because everything happens in the kitchen. This is the space where you use your talents and TLC to whip up nutritious meals for your family, but it's also where the kids practice for spelling and math tests, and where you unwind with your partner over a glass of wine at night and a cup of coffee on the weekend.
The kitchen is a well-loved, well-used room in your home. It's also highly trafficked and will show signs of wear and tear before other areas, unless you incorporate quality materials.
Whether you're looking to upgrade your kitchen and have plans for a complete remodel or you want to add your own touches to a new abode, here are five reasons to choose a natural stone design in your kitchen.
Natural Stone Is a Long-Lasting material
Given that your entire family and even visitors are going to pass in and out of your kitchen on a daily basis, you'll want to select materials that will still look beautiful 5, 10, even 15 years down the line and not have to worry about regular use creating unsightly scuffs and marks.
While numerous materials are up for the challenge, nothing will withstand the test of time quite like natural stone. Natural stone in its original state was exposed to the elements. Wind, rain, and sun may have altered the material slightly to create the stunning look you see today, but it retained its durability, just as it will in your kitchen.
If you want a material for the backsplash or countertop that you don't have to worry about, then go with natural stone design.
Natural Stone is Timeless
It's inevitable that at least some of the interior design selections in your home will fade with time. While the trends you incorporated may resurrect themselves years later, by then, you'll have wanted to move on from your once modern selection. However, no matter what design aesthetic you choose for the rest of the house, you can't go wrong if you incorporate natural stone into the kitchen.
Natural stone fits with any décor and any trend, making it extremely versatile. This ability to shift with the seasons makes it a top option for any homeowner. And while it's not the most affordable selection up front, its classic features will not only fit now, but add value to your home whenever the time comes to sell.
Each Slab of Natural Stone is Unique
Do you want to have something in your home that no one else in the world has, that you can show off each time visitors stop by? If a one-of-a-kind, eye-catching kitchen design element is your goal, then natural stone is the best option on the market.
As you'll see when you visit a natural stone showroom, no two slabs are alike. While some may have similar coloring, the shades, hints of other hues, and speckles and swirls are all unique. In fact, it's for this reason that a visit to a showroom is a must once you decide that natural stone is the way to go. While one person will prefer a quartz slab with brass undertones, another will want a more muted option lining their kitchen counters.
Natural stone is an investment in your home, just like a piece of art. And both are deemed aesthetically pleasing, or not, based on the onlooker.
Natural Stone is Great if You Want Sub-Floor Heating
It's becoming increasingly common to add radiant heating underneath one's floors, including in the kitchen. That's because floors, no matter which material you choose, will become somewhat chilly come winter. While sub-floor heating can be added before installing wood or synthetic flooring, natural stone is your best bet.
Natural stone, no matter which one you decide on, is a good heat conductor. This will allow your heating system to work more efficiently to properly warm your floors to the appropriate temperature, allowing you to walk comfortably around your home without slippers, even when temperatures hit below freezing.
If you're looking to redo your kitchen floors, you must add natural stone to the top of the list if sub-floor heating is a desired trait, in addition to beauty and durability.
Natural Stone is Perfect for Families with Kids & Pets
When you walk into your kitchen each day, you want to feel relaxed and enjoy the features that you so delicately selected. However, you don't want to have to spend time each day scrubbing floors and counters to get the desired effect. You want it to be easy even when nothing else in life is.
Natural stone is easy. It's simple to clean and very low maintenance. It's also incredibly durable and even stain resistant. Spill a glass of red wine on the counter? Not a problem. Your child drops his bowl of cereal on the floor? Clean it in a flash. Your dog licked around his food bowl to ensure she got every morsel? That's nothing to fret about either.
If you want kitchen flooring and counters that can handle real life—messy, dirty, unpredictable life—then you want natural stone design.
In addition to the five benefits above, many people who decide to go with natural stone also make the selection because it's an environmentally friendly one as well. In fact, granite, limestone, marble, slate, and others are all options that contribute to homes and businesses alike that are looking to achieve LEED status. This sustainable designation identifies that the structure was constructed with the environment front of mind, and those who live in such homes also contribute to monthly energy savings because of their initial investment.
Whether you want to design a LEED-certified new construction home or are simply looking for the most practical long-term solution for your kitchen counters and flooring, there are many reasons natural stone design should remain at the top of your must-have list. Call us at EleMar Oregon today if you're ready to get started!